After praising the Lord …

It is our pleasure to present for the first time this Directory, containing the addresses of their Eminence the Metropolitans and the clergy of the Syriac Orthodox Church of Antioch worldwide (excluding India).

It is our desire that our clergymen provide us with updated information regarding their own addresses and telephone numbers in order to keep this directory as accurate as possible. Please send the information on the address below.

May the blessing of the Lord be with you.
Burbank, Jan. 01, 2003
Please send your address
and telephone number to:
Syriac Orthodox Archdiocese
417 E. Fairmount Road,
Burbank, California 91501-1705
E-Mail to: Bishopric
Tel: (818) 845-5089
Fax: (818) 953-7203
E-Fax:(810) 963-1656
---
Syriac Orthodox Church
of Antioch
Patriarchate

St. Ephrem Seminary in Ma'arat Saidnaya, Damascus, Syria

Convent of St. Jacob Baradaeus, Atchaneh, Lebanon

Egypt, Patriarchal Vicariate of

America (North, USA & Canada)

America (Central)

America (South)

Australia

Great Britain

Europe

Scandinavia

Middle East

Iraq

Jerusalem & Jordan

Lebanon

Syria

Turkey

Arabian Gulf & Emirates

Syriac Orthodox Church Prelates
---
The Patriarchate
---
Head of the Church: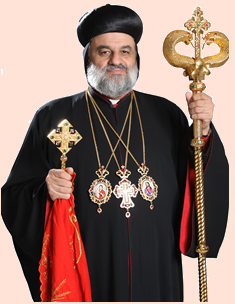 His Holiness Moran Mor Ignatius Aphrem II Karim
Patriarch of Antioch and all the East
Supreme Head of the Universal Syrian Orthodox Church
---
Mor
Metropolitan, Patriarchal Assistant
Address:
Syrian Orthodox Patriarchate of Antioch
Bab Touma,
P. O. Box 22260
Damascus, Syria
Patriarchate
Tel: + 963-11 543 8387
Priv: + 963-11 543 8383
Fax: + 963-11 544 3443
Mobile: + 963-933-422-286
---
Mor
Metropolitan, Patriarchal Secretary
Address:
Syrian Orthodox Patriarchate of Antioch
Bab Touma,
P. O. Box 22260
Damascus, Syria
Patriarchate
Tel: + 963-11 543 8387
Fax: + 963-11 544 3443
E-Mail:
---
St. Ephrem Seminary, Nuns' resident
Tel: + 963-11 595 2520
Convent of St. Jacob Baradaeus
For Nuns
Atchaneh, Bikfaya-Lebanon
Tel: + 961-4-98 4446
---
E G Y P T
Name of the Priest or Church

Address

V. Rev. Fr. Kirilos Masoudi

Syriac Orthodox Church of Antioch

St. Mary Church

21 Qantarat Ghamrah

Cairo, Egypt

Tel: (+20) 2/482-8488